About Us
Established in 2008, Isola and its affiliated entities have experienced continual expansion over their 12-year history. This growth has been in part thanks to state-of-the-art construction techniques, dedication to improving the communities in which the companies build, and prioritizing the creation of quality teams.
2008
Isola and affiliates are launched with a focus on income properties.
2009
Expansion into commercial loan and bridge financing as well as equity investments.
2010
Isola and affiliates start residential land development and home building.
2015
The companies expand into apartment building.
2019
Isola Homes receives the Master Builders Association Moving the Market Award, which recognizes a person, business, or government entity that has taken actions or implemented programs that advance and expand Built Green certification, promote Built Green as a brand, and demonstrate a commitment to environmental stewardship.
2020
Expansion into AZ Build for Rent (BFR) communities.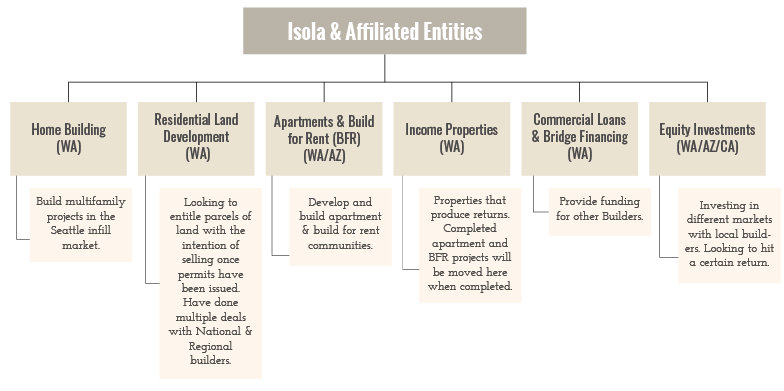 Our Services
Isola Communities has enjoyed many years of experience in the construction and real estate development industries. As such, our services extend beyond what you might typically expect from a company like ours. In addition to construction services, there are specific teams within our organization that focus solely on operations like investing and entitlement services.
Address
2375 E Camelback Rd, Suite 600
Phoenix, AZ 85016
Hours
Mon - Fri : 8am - 5pm
Contact Us
(206) 737 - 9700